Phil Jones Bass Cab 27 200W 2x7 speakers Bass Speaker Cab with 3 Tweeter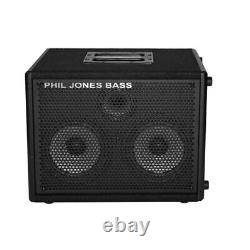 Phil Jones Bass Cab 27 200W 2x7" speakers Bass Speaker Cab with 3" Tweeter. Phil Jones Bass Cab 27 200W 2 x 7 Inch. Two proprietary PJB 4 ohm 7-inch drivers wired in series (8 ohm total).
Specifically designed to handle high power levels of bass frequencies with extremely low distortion. Magnetic liquid is situated and locked in the magnetic gap and provides cooling of the voce coil, increasing the focus of the magnetic field onto the voice coil and also provides liquid damping. Tweeter has greater dynamic range, lower distortion and smoother frequency response.
Cab 27 tweeter crossover has minimum phase shift so the tweeter blends in seamlessly with the 2x7 speakers. Cab 27's frequency response is smooth; it can easily double up as a vocal monitor or as a music playback speaker. PJB dual vent system was designed to allow extremely high air velocities without causing distortion.
Cabinet is solidly constructed with panels of plywood and medium density fiberboard. Protected by heavy duty vinyl and carpet and has a "kickproof" shock mounted steel grill. Heavy duty recessed handle on top allows for easy carrying.
Cabinet has 8 rubber feet to ally the cabinet to be used vertically or horizontally. Connectors: 2 x Neutrik Speakon NL4: 1 input, 1 link out to another. Frequency response: 30 Hz to 25 Khz. Finish: Black Carper and vinyl sides. Dimensions: 16.5" x 13" x 12.5.
Our products are backed by our 30-Day Satisfaction Guarantee. New Gear: If you're not satisfied, neither are we. Additionally, the following items are returnable only if defective OR unopened - strings, reeds, tubes, earbuds, earplugs, recorders, tin whistles, flutophones, "world" wind instruments, harmonicas, drumheads, drumsticks, sheet music, cleaners, polishes and polishing cloths.