Marshall 2x12 Angled Speaker Cabinet, Power 160W, Model MX212AR, Color Black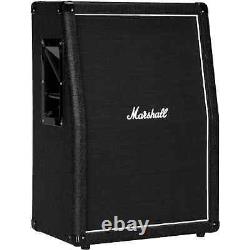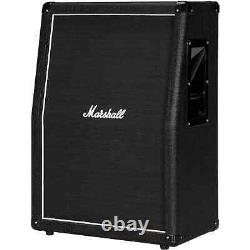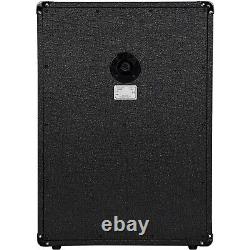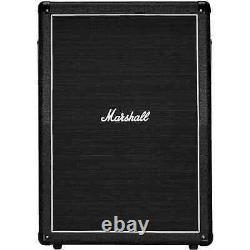 Marshall 2x12 Angled Speaker Cabinet, Power: 160W, Model: MX212AR, Color: Black. Marshall Amplification, the legendary British amp builder, offers the MX212AR 2x12 guitar cabinet. Loaded with a pair of Celestion Seventy/80 speakers, this 160W cabinet delivers the projection and tone that Marshall is renowned for. The angled cabinet design enhances clarity and spread, allowing guitarists to cut through the mix.
160 Watts of Power through Celestion Speakers. The Seventy/80 speakers are known for their warm yet defined tone that complements high-gain amps. The MX212AR cabinet's efficient design and sturdy construction allow it to handle the high volumes required for rehearsals and live performance. Angled Design for Optimal Projection. The MX212AR cabinet features an angled baffle board that aims the two speakers up and out.
This design helps the sound carry farther and spread wider, allowing guitarists to cut through the mix. The angled cabinet is ideal for rehearsal spaces or live venues where maximum projection is needed. The angled design also provides a more direct sound for those standing close to the cabinet. Like all Marshall gear, the MX212AR cabinet exhibits the company's signature esthetic.
The durable cabinet is covered in iconic Marshall black vinyl and accented with the familiar Marshall logo and gold piping. A metal grill protects the two Celestion speakers and sturdy metal corners help the cabinet withstand the rigors of transport and performance.
The classic styling of the MX212AR allows it to complement any Marshall amp head. Weighing in at just over 65lb.
The MX212AR cabinet is relatively lightweight and portable. Integrated side handles make it easy to load in and out of vehicles and move around.
The MX212AR's simple yet robust design means that it works well in a variety of live and studio settings. Whether paired with a Marshall tube amp or a high-gain solid-state head, this 2x12 cabinet reliably reinforces your guitar tone.