Speaker Electric Guitar Amp FLAMMA FA05 Bluetooth + 7 Preamp 40 Drum Machine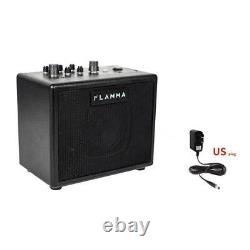 Flamma Fa05 Electric Guitar Amplifier Amp Bluetooth Combo Amplifier Speaker Mini. FLAMMA FA05 Mini Bluetooth guitar Amp 5Watt Guitar Amplifier with 7 Digital Amp Models, Built-in Modulation, Delay and Reverb and Chorus Effects in Compact Amp This little box sports 7 of classic amp models along with an array of built-in effects and I/O options.
Also included is a custom 3 speaker, perfectly tuned to deliver amazing tone with a big sound from such a small unit. The tiny size makes it portable and unobtrusive, while it's discreet style fits nicely in any setting. 7 high-quality digital amp models based on popular guitar amplifiers. Drum machine with 40 different grooves to choose from. Built-in Modulation, Delay and Reverb and Chorus effects with independent tap tempo controls.
Store and recall up to 7 presets. Amp and effects have adjustable parameters that save automatically. Bluetooth and auxiliary audio connectivity with headphone out. Supports 6 AA batteries as an alternate power source. Multiple connection Designed to make learning songs or jamming to backing tracks a breeze, the FA05 allows users to connect their preferred devices via Bluetooth or through the auxiliary audio input. The amp also features a headphone jack for quiet practice at any time of day. Effects Adjust Just rotate the Amp knob to select from 7 different amp models. You can also adjust the effects, gain level, tone, and volume level of each amp through the corresponding knobs. Rotate the CHR/TREM knob to select and adjust levels between chorus and tremolo effects. Rotate DLY/REV knob to select between and adjust levels of delay and reverb effects. Drum machine 40 types:Pop, Metal, Rock, Funk, Country, and so on. Just rotate the Amp knob to select from 7 different amp models. This provides infinite choices for your sound creation and skills improving. Tuner Press and hold the DRUM knob to access the TUNER. Press DRUM or SETTING button to exit. Headphone Output for Silent Practice A clean, accurate sounding practice amp with good tones to use. Wearing headphones while playing in your bedroom can avoid bothering your family. Portable and Easy to Use Compact size and low-watt allow you to practice at home, putting on a desk or taking it wherever you go, via the battery-powered or the 9V power adapter connection. Power Supply Powered by 9V DC adapter(Included) or 6 x AA batteries(Not Included). The product came very well packaged.