Eminence Swamp Thang 12 150W 8-Ohm Guitar Speaker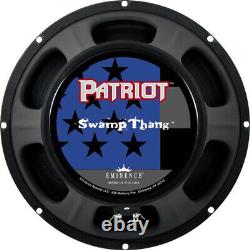 Eminence Swamp Thang 12 150W 8-Ohm Guitar Speaker. Eminence Swamp Thang 12 Inch 150W 8OHM Guitar Speaker. Nominal Basket Diameter 12, 304.8mm. Usable Frequency Range 70Hz - 5kHz. Gap Height 0.31, 7.92mm.
Voice Coil Diameter 2, 50.8mm. DC Resistance (Re) 6.92. Coil Inductance (Le) 0.42mH. Mechanical Q (Qms) 14.43.
Electromagnetic Q (Qes) 0.55. Total Q (Qts) 0.53. Compliance Equivalent Volume (Vas) 41.3 liters / 1.5 cu. Peak Diaphragm Displacement Volume (Vd) 43cc. Mechanical Compliance of Suspension (Cms) 0.1mm/N.
BL Product (BL) 14.2 T-M. Efficiency Bandwidth Product (EBP) 177. Maximum Linear Excursion (Xmax) 0.8mm.
Surface Area of Cone (Sd) 532.4 cm2. Maximum Mechanical Limit (Xlim) N/A. Driver Volume Displaced 137.3 cu. Overall Diameter 12.01, 305.1mm.
Baffle Hole Diameter 10.95, 278.1mm. Front Sealing Gasket Fitted as standard.
Rear Sealing Gasket Fitted as standard. Mounting Holes Diameter 0.25, 6.4mm. Net Weight 11.1 lbs, 5 kg. Coil Construction Copper voice coil. Basket Materials Pressed steel basket.
Cone Edge Composition Paper cone edge. Dust Cap Composition Zurette dust cap.
Merchandise and packaging MUST be in the same condition as when received. Alto Music reserves the right to refuse any return if it appears the item has been used. Software (if unsealed or registered).
Harmonicas, Mouthpieces, Earbuds/Earphones/Headphones(if unsealed), or any item that may come in contact with the mouth, ears or nose. There are no warranties for the following items.