Donner Piano Keyboard Amplifier 20W Electric Guitar Electronic Drum Amp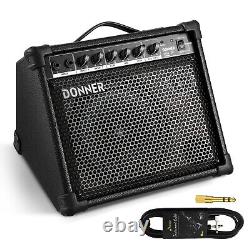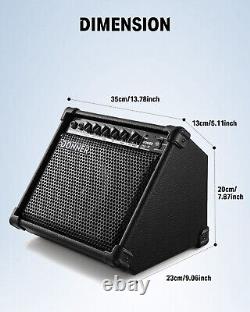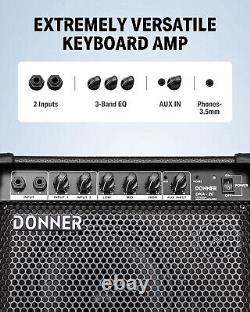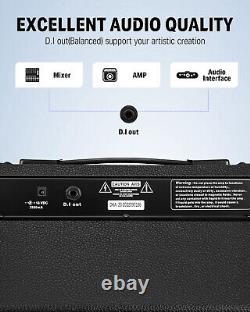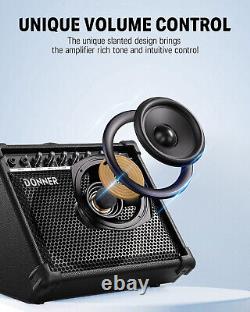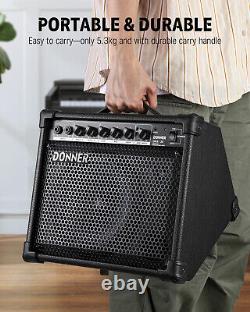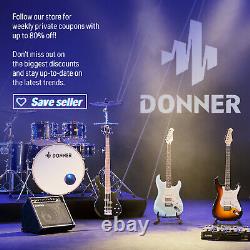 The 20-Watt Electric Keyboard Amplifier is equipped with two speakers (LF: 8-inch woofer, HF: 2-inch tweeter, Impedance: 4 ohms) for rich tone and intuitive controls. Perfect for electric keyboard practice, street performances, karaoke with friends, band performances, and outdoors playing.
The frequency response ranges from 50 to 20KHZ. High efficiency and super durability. This 2-channel keyboard amplifier is extremely versatile with two inputs and separate volume controls for each channel. Features include Gain, Boost Select Switch, Volume, Treble, Middle, and Bass controls. Includes two 1/4" instrument inputs, 3-band EQ, 1/8" auxiliary input jack for jamming along with media player or CD, 1/8 headphone output jack for silent practice, and DI output port for external active speakers. With a maximum gain of 48dB, this keyboard amplifier supports microphone input for clean and warm tone. Donner DKA-20 AMP comes with a Custom Perforated Grill Mesh Sheet. Rich and practical audio interface. Rugged housing makes it durable. Angled back design provides a comfortable listening experience. The maximum gain is 48dB, supporting microphone input, and the tone is clean and warm. Frequency response ranges from 50 to 20KHZ. Soft and stable sound, less tone dyeing, strong reduction. Convenient for playing and singing performances.
Two 1/4" Instrument Input, 3-Band EQ, 1/8" Auxiliary Input Jack for Jam-Along with Media Player or CD, 1/8 Headphone Output Jack for Silent Practice. DI output port for external active speakers. The edge of DKA-20 is surrounded by hard material, protecting the amplifier from damage and pad of rubber makes it stand safe and stable. The Volume controls how loud your amplifier is.
The Treble/ Middle /Bass controls help you shape the high and low frequencies of your Keyboard tone. Speaker: 8-inch woofer, 2-inch tweeter 4 Omega. Dimension: 33.8CM 23.8CM 294CM. Power Supply: DC Adapter 18A 3A.
1 x Donner DKA-20 20w Keyboard Amplifier. 1 x 6.35mm Male to Male Mono Cable. 1 x Audio Stereo Plug 6.35 mm Male to 3.5 mm Female. Welcome to our Donner Music shop!
We look to continually update our products and provide the best possible value and product. Donner has several warehouses in New jersey, California and Kentucky to ensure that our customers can receive the goods in 2-7days. Reminder: Be sure to use your product as directed.
Not sure how to get your Donner product to work properly? Contact our world-class, friendly support team for quick solutions.
Our relationship with Donner has been carefully crafted to ensure that our customers receive only the best. When you shop with us, you can rest assured that you are getting the very best. We are committed to ensuring that you receive only the highest-quality products, along with exceptional customer service. Shop with us today and experience the ultimate in customer service and quality.