Eminence Cannabis REX 12 Hemp Cone Guitar Amp 8ohm Speaker NEW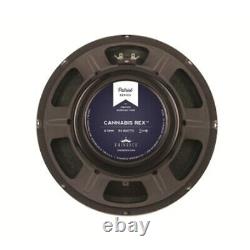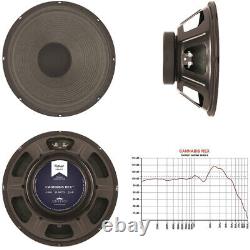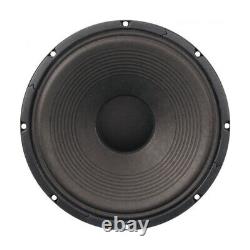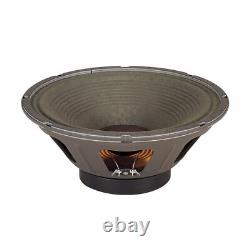 Eminence Cannabis REX 12 Hemp Cone Guitar Amp 8ohm Speaker NEW. EMINENCE Patriot Cannabis Rex 12 Guitar Replacement Speaker 8 ohm. The Eminence Cannabis Rex guitar speaker lets your laid-back style come through. Clean and full, with lots of body and sparkle. Smokey smooth with high-end definition.
Country, Jazz or Classical guitarists take notice. Gap Height 0.312", 7.9 mm Voice Coil Diameter 1.75", 44 mm Thiele & Small Parameters Resonant Frequency (fs) 96 Hz DC Resistance (Re) 6.56 O Coil Inductance (Le) 0.44m H Mechanical Q (Qms) 9.28 Electromagnetic Q (Qes) 0.69 Total Q (Qts) 0.64 Compliance Equivalent Volume (Vas) 45.48 liters / 1.61 cu. Peak Diaphragm Displacement Volume (Vd) 44.7 cc Mechanical Compliance of Suspension (Cms) 0.11 mm/N BL Product (BL) 11.8 T-M Diaphragm Mass Inc. Airload (MMs) 24 grams Efficiency Bandwidth Product (EBP) 139 Maximum Linear Excursion (Xmax) 0.8 mm Surface Area of Cone (Sd) 532.4 cm2 Maximum Mechanical Limit (Xlim) N/A Mounting Information Recommended Enclosure Volume Sealed Acceptable Vented Acceptable Driver Volume Displaced 0.071 cu.
/ 2 liters Overall Diameter 12.03", 305.6 mm Baffle Hole Diameter 11.07", 281.2 mm Front Sealing Gasket Yes Rear Sealing Gasket Yes Mounting Holes Diameter 0.25, 6.4mm Mounting Holes B. Customers located outside of the contiguous United States please note. International Orders are final sale, no exception. We are here to help answer any question you may have. We can easily be reached using one of the options below. Pro Audio Land 3200 Fujita St Torrance, CA 90505 USA.