Eminence Red Coat The Wizard Speaker 75 W RMS 70 Hz to 5.50 kHz 8 Ohm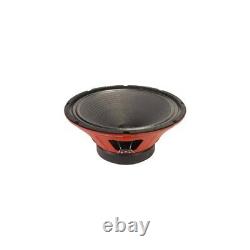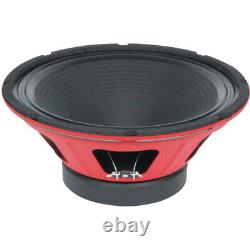 Eminence Red Coat The Wizard Speaker - 75 W RMS - 70 Hz to 5.50 kHz - 8 Ohm - 12. International Customers: All electronic products are packaged for sale in the US with US voltage. Additional Information: Driver Size: 12 Driver Material: Paper. Country of Origin: United States.
This item is brand-new, factory sealed. This table charts the specifications for the THE WIZARDT speaker Nominal Basket Diameter: 12-in, 305 mm. Usable Frequency Range: 80 Hz - 5.3 kHz. Gap Height: 0.312-in, 7.9 mm.
Voice Coil Diameter: 1.75-in, 44 mm. Resonant Frequency (fs): 89 Hz.
DC Resistance (Re): 6.13 Ohms. Coil Inductance (Le): 0.38m H. Mechanical Q (Qms): 11.48.
Electromagnetic Q (Qes): 0.49. Total Q (Qts): 0.47. Compliance Equivalent Volume (Vas): 41.5 liters / 1.47 cu. Peak Diaphragm Displacement Volume (Vd): 41.6 cc. Mechanical Compliance of Suspension (Cms): 0.11 mm/N.
BL Product (BL): 14.4 T-M. Efficiency Bandwidth Product (EBP): 181. Maximum Linear Excursion (Xmax): 0.8 mm.
Surface Area of Cone (Sd): 519.5 cm2. Maximum Mechanical Limit (Xlim): N/A. ---------------------------------- Recommended Enclosure Volume; Sealed: Acceptable. Driver Volume Displaced: 0.079 cu. Overall Diameter: 12.03-in, 305.6 mm. Baffle Hole Diameter: 11.07-in, 281.2 mm. Mounting Holes Diameter: 0.25-in, 6.4mm.
Depth: 5.2-in, 132.1 mm. Net Weight: 11.1 lbs, 5.03 kg. Coil Construction: Copper voice coil. Basket Materials: Pressed steel basket.
Cone Edge Composition: Paper cone edge. Dust Cap Composition: Zurette dust cap. There are certain tones that stand out in musical history. In rock, in blues and all kinds of music. The Redcoat series captures some of the most well-known amp tones ever recorded and revered for decades. Ranging from tight and bright to growling grit, there's a Redcoat model that'll bring classic sounds alive for today's players. Give your audience a live lesson in history, and in tone.
Red Coat The Wizard Speaker. Eminence REDCOAT The Wizard Speaker - 75 W RMS (THEWIZARD). Opened items must be in re-sellable condition including original packaging and all accessories. We focus on making purchasing online a pleasant experience. Our sales office is located in beautiful town of Redondo Beach, California, just a few miles South of Los Angeles International Airport.
We do not stock any inventory at our sales office. Why are our prices so low? We have modeled our business much like a wholesaler.
We sell in huge volume and have streamlined our operations to provide you with the best combination of price and service available anywhere.