Celestion Vintage 30 12 16 Ohm Guitar Speaker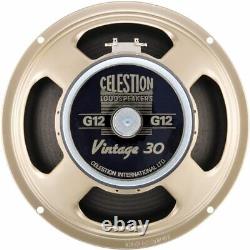 Celestion Vintage 30 12 16 Ohm Guitar Speaker. Back in 1986 a new breed of hard rock player was on the rise. To achieve this we coupled our'H' magnet (the closest in performance to Alnico) with a new cone and voice coil employing contemporary materials. Our most revealing speaker the Vintage 30 features enormously detailed and complex overtones a warm low-end a famously rich vocal mid-range and a beautifully detailed top-end. Used singly to reveal the complexities in hand- wired boutique amps or in quartets for a wonderfully intricate vintage 3D crunch the Vintage 30 sound has been captured on thousands of recordings from a diverse range of notable players including Slash Steve Stevens and Peter Frampton. Merchandise and packaging MUST be in the same condition as when received. Alto Music reserves the right to refuse any return if it appears the item has been used. Software (if unsealed or registered). Harmonicas, Mouthpieces, Earbuds/Earphones/Headphones(if unsealed), or any item that may come in contact with the mouth, ears or nose.
There are no warranties for the following items.