SONSETBEACH ORANGE 2x12 Custom Speaker Cab NEW Un-Loaded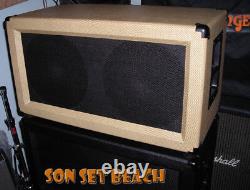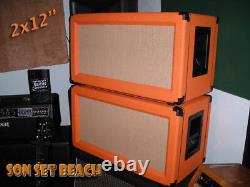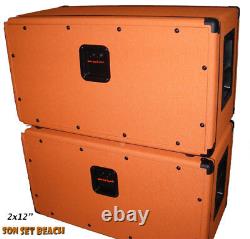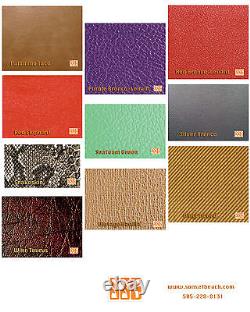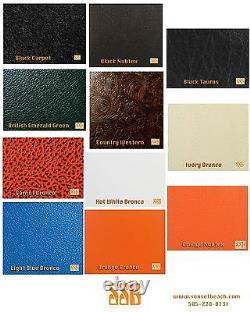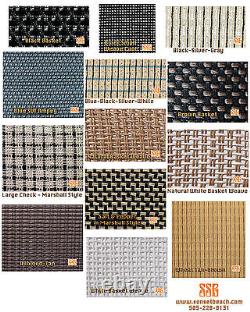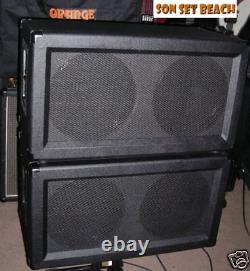 Orange Picture Frame Style Plus++. >>> We are also a Master Dealer for Eminence and also the only Eminence Tone Center in 4 states currently. You can PICK The C o l o r & Grill Cloth - You Choose!
Or as pictured in Orange. In the Beginning we started making some Speaker Cabinets for our Clients and Ourselves. We found a Great USA Speaker Cabinet Maker and we Put our heads together to come up with many great ideas. These Cabinets are Pre-wired for Your Speakers. PROUDLY MADE IN THE USA. Son Set Beach Music (SSB Music) build Pro-Tour guitar/bass speaker cabinets that generated World Class TONE and Beyond. Our Cabs are built for the Players who demand ultimate performance. The common complaints of "muddiness" "low dynamics" and "poor projection" that we've all experienced at one time or another. We have Implemented the acoustic principles that cause sound to travel well. The Cabs are Stadium-ready and Professional-grade... Meant to be run hard with massive power and articulate tone. Son Set Beach cabs' overall performance is unmatched in Power, Projection, Dynamic Response and Tone.... Our build quality is superb. We make a good amp sound great... A great amp becomes simply fantastic through our speaker cabs.
100% AMERICAN PRODUCT MADE FROM BALTIC BIRCH WOOD. THE DIMENSIONS ARE (27 7/16" X 14 15/16" X 14). ASSEMBLED WITH DADO JOINTS "Reinforced" TO REALLY GET A HIGH QUALITY SOUND AND PERFORMANCE. IT IS WRAPPED IN BRONCO VINYL, METAL BLACK CORNERS - LARGE RUBBER FEET - BLACK STEEL HANDLES.
I know I love these! The Picture above: THESE ARE MINE IN STUDIO "A". I TRAVEL WITH THESE ALSO. JUST RIGHT FOR WHAT WE DEMAND. We build each Cabinet to your needs - Please Advise 8 or 16 ohms Cabs.
Production time is about 7-10 Days! Check The Pictures at the top of the page! What type of Grill Cloth would you like? Tell Us at Son Set Bqach. Bob Reynolds ATP, CFI, CFII, MEI, FE, AGI, BGI, IGI B-727, B-737, CE-500 NAMM, AES, NAB, and ASCAP Son Set Beach Productions Audio and Video Productions Mastering and Sound Reinforcement Services Pro Audio and Video Sales and Service.
We are honored to represent the following products to our musical friends: ADK &. Eminence Speakers - USA - (Master Dealer) Eventide & Eventide Stompboxes - USA Demeter Amplification - USA. RADIAL Engineering / TONEBONE - Canada.
SSB Music Pedal Boards - USA. SSB Music Flight and Road Cases - USA SON SET BEACH Custom Shop Amplification & Speaker Cabs - USA.
Hey Guys Here is a good long answer to Ohms and Speakers. E (Voltage) and P (Wattage) use their RMS values. Many people ask me about changing around an amplifiers speaker wiring - either by adding more speakers or connecting them in different ways. A lot of things happen when speaker loading changes, and if you know how Ohms Law works, it will simplify your design efforts quite a bit. I always refer to the documentation that came with any amplifier, especially as it pertains to loading/speaker Impedances.
What does Ohms Law help us do? Often we want to know how much power something has, or it will have when we have reconfigured it. If we know at least 2 things (any of Watts, Amps, Ohms or Volts), we can figure out the other 2 things. The Ohms Law chart has a center ring containing 4 items (P, I, R and E) and then an outer ring that contains equations that relate to finding out the values of the inner 4 items. This chart is color coded to simplify its use - all the like colors work together.
Our focus will be on using this for working out things that musicians care about, and nothing very esoteric, so I'll avoid any details that really are not important to our needs. Ohms Law operates assuming a perfect world - the issue is that nothing is truly perfect and Ohms Law does not account for losses or design limitations that we may not be totally aware of. We can, however, use it to create some generalizations that tell us a whole lot about the cause and effects of our power usage. How do I figure out how much power is going to my speakers? Why is it not louder when I add more speakers (it often isn't)?
If your amplifier is rated at 100 watts at 8 ohms, we can solve for E (voltage) by looking at the Blue area and find an equation that uses both P (watts) and R (ohms). P (Watts) = 100 R (Ohms) = 8 P x R = 800 The Square Root of 800 is approx. 28.3 So, with an 8 Ohm load at 100 Watts, the speaker will see up to 28.3 Volts (E = Volts).
Now, if we want to add another 8 Ohm speaker in parallel, that would change our impedance to 4 Ohms (2 8 Ohm Speakers in parallel = a 4 ohm Load), what would the power to the speakers become? For this, we needed to know the voltage that we had for 100 Watts at 8 Ohms. Because the power supply in the Power amp is limited to how much voltage it can give us. We know that this value from working out the above.
To find out our wattage change, we look at the P (Power) inner circle, and the RED equations. R (Ohms) = 4 E (Volts) = 28.3 E squared / R will tell us what we want 28.3 squared is approximately 800 800 divided by 4 = 200 So, if we increase the load of the amplifier from 8 ohms to 4 ohms, we should see more power, and in this case, it Is 200 Watts. As long as the power supply can provide 200 watts, we will have doubled the available power. What happens if I put the 8 Ohm speakers in series, effectively giving me a 16 Ohm load? The equation to use is the same, we simply plug in a different value for R.
R (Ohms) = 16 E (Volts) = 28.3 E squared x R will tell us what we want 28.3 squared is approximately 800 800 divided by 16 = 50 So, if we reduce the load of the amplifier from 8 ohms to 16 ohms, we should see less power, and in this case, its 50 Watts. If the power supply can provide 100 watts, it can easily handle 50 watts and we have halved the available power. There is an effect here that is not obvious until you look at the numbers. Running things in parallel and using the lowest impedance load possible gives you the most power. In the case of running 2 8 Ohm speakers in parallel - you'll see in our example that each gets to split the 200 Watts between them - in this case, each speaker sees 100 Watts, which is the same Power that the individual 8 Ohm speaker saw when it was the only load on the system.
In the case of running things in series, a more dramatic change occurred. First, the available power dropped by 50%. Second, the available power that is split between the speakers is 1/2 of the available power, and in our example, these speakers now only see 25 watts each. Thats 1/4 the amount of power that the individual speaker had if run by itself at 8 ohms or when 2 are run in parallel giving a 4 ohm load.
All this implies that if we simply keep putting more and more speakers in parallel, we get more power. This is true until we hit the limit of the Amplifiers internal Power Supply - the current (I) that it can give us, or the current (I) that the Power Amp output stage is limited to. Heat plays a big part in this - when anything gets hot, some of the power that was supposed to drive the speakers is lost. The hotter it gets, the bigger the losses. Too much heat and the Audio Output stage fails often this occurs quickly and catastrophically.
The most common failure mode I run into seems to favor dead shorts in the output Power Transistors, which dumps raw voltage into the speakers, and frequently burns up the voice coils in a matter of seconds. These are strong arguments for not placing too high (lower impedance) of a load on any power amp. Always refer to the documentation that came with the power amp to see what Impedance is recommended. 8 ohm support is common. 4 ohm is also common, but not as common as 8 ohm.
2 ohm is rarely supported, however some amplifiers can handle it (please check before trying it). We see that to get this voltage level, we have to multiply P x R, and then take the Square Root of that value. How do I know how much power my equipment is using. This can be critical when you are dragging out extension cords to hook up all your gear with. You will need to avoid drawing more power than is available. If you know the Power (Watts) ratings of all the gear you want to hook up and what the E (Voltage) is, then you can estimate I (Current) draw. In the USA, most homes are wired for 15 amps per circuit. Some power outlets are good for 20 amps, but its not good to assume you have more than 15 amps available. Most often you end up sharing your power source with other things, such as lighting or kitchen devices. Because you don't know whats out there competing with your gear, its usually not a good idea to draw more than 10 amps - this allows for 5 amps to be used by anything already connected up to the same power source.
Looking at the Ohms Law chart, you can see that if you add up the Wattages (P) of all the devices you plan to use, and divide that by the Voltage (E), you will get the Current needed (I). It is good to know.
Some More Feedback for these Cabs. I love it thanks so much. I may be interested in a bass cab soon too.
Played through my orange rocker30 head. It screams rock and roll!
Oh Yes we make Nice Custom 50 and 100 Watt Tube Amps. Think - Hi Watt meets Orange Amps.. Sweet Tone fore Guitars and Bass. Plus we match your Cabs to the Heads. Yes we have the 4x12 Cabs Out now!
We keep hitting the Home Runs, Thank God! They sound really Good Guys! We can make pretty much. The designs we have been commissioned to make are pretty Cool!
Also, I guess our plant is making most all the Demeter, Bogner, Fuch, Bad Kat, Tech 21 & Poly Tone cabs now. Most recently I have a new 2x12. Extension Cab for the Fender Twin. It has a 2x12 Configuration and sets perfectly under the FenderTwin. I designed it to match the front slant angle of the Fender.
So, it continues the natural front angle to make the Twin Look Hugh! The back can be Semi open or closed by removing the custom SPLIT back panel. Give me a chance to make your dreams come true! Also Makes a perfect Gift for the Musician that has everything. Or "Man, that's what I always wanted"..
I wanted to drop a note and let you know that I LOVE this cabinet! At first (as you remember) I was wary of the WGS speakers..
All doubt has been REMOVED!! From tone to aesthetics - this cab has become a vital piece of my sounds identity. Not having it would be paramount to not having my boogie, or my Charvel.. Thanks, you're a good fella... I wish there was a way for me to tell everybody out there. Cheers Mate - take care.
Subject: RE: Son Set Beach speaker cabinets. My cab arrived today :D Sounds great and I'm really pleased with it.
I was expecting it to be a bit larger but I'm ok with how it, this looks very good with my Mesa head. Thanks for all your hard work, Bryce J. Just wanted to let you know that I received my cab today.
Everything sounds good so far but haven't been able to crank it. It looks incredibly smooth and professional! Bob, you are without a doubt one of the Best Cabinets Makers out there today!
And with all the extra padding you guys put around the cab itself, (thank you for that) not even a scratch, mark or ding on this Beautiful cab you guys made. With the saddle leather dark brown swirl vinyl and the natural cane looking grill cloth, it looks so antique, boutique looking and what a perfect match for the 1980 Naylor amp head, it's dead on! But will let you know as soon after I put it thru it's paces. Johnny D Lemke VP Sales, Marketing.
This thing sounds amazing and is very light for it's size. The finishing touches are fantastic too! Thank you, Thank you, Thank you! This item is in the category "Musical Instruments & Gear\Guitars & Basses\Guitar Amplifiers".
The seller is "sonsetbeach" and is located in this country: US. This item can be shipped worldwide.
Model: SONSETBEACH ORANGE
Amplifier Type: Cabinet
Brand: SON SET BEACH