Tone Tubby 12 Purple Haze Alnico Hemp Cone Guitar Speaker 8 ohm NEW with Warranty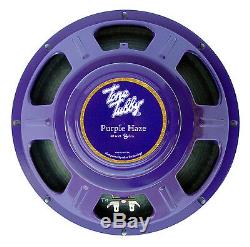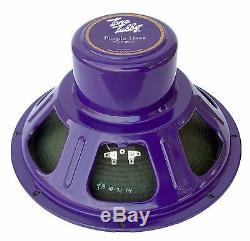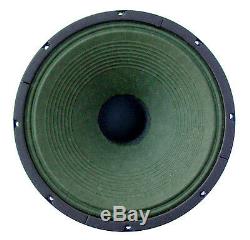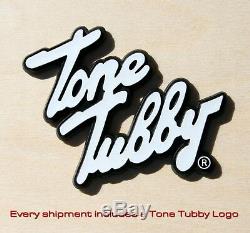 Hemp cone Tone Tubby speakers. Speakers are custom assembled to order. This listing is for one.. Tone Tubby Purple Haze Alnico 12. Tone Tubby Speakers has developed a thinner and lighter hempcone revealing a refined, articulate. Cleaner response and enhanced transparency while retaining the characteristic 3D hempcone texture and sound quality. Check out the YouTube Clip. The speaker has a full, articulate, detailed clear midrange texture. These qualities bring out every nuance of a player's touch and picking expression when played.
The speaker when played clean is clear and sweet, and when played pushed with overdrive/distortion pedals or an amplifier, has a beautiful singing voice. "The Purple Haze is an ideal speaker for players who want every aspect of their playing style and technique to come through the speaker, from the most subtle variations of pick and finger attack to full bore singing sustain, " said Charlie Shapiro, Tone Tubby Technical Marketing Specialist. It combines the clarity and definition of the classic guitar and instrument speakers with the sweetness of an alnico magnet design, without a trace of harshness that is present with metal-dome speakers. " "You can easily and immediately hear every variation in how the strings are fingered and picked, Shapiro continued.
The differences between overdrive/distortion pedals you previously thought sounded similar are now highlighted. The harmonic complexity of reverb, delay and modulation effects are revealed through the character of the decay tails and the sonic characteristic of the speaker's fade-to-black quality. " "The Purple Haze gives back whatever you put into it.
It is a speaker that will reward the most demanding player. And you can muck it up beautifully with effects. " Brad Sarno of Sarno Music Solutions states, "Playing through the Purple Haze may be one of the best guitar tones I've ever gotten, ever. It has the general feel and clarity of the K120, with a similar and familiar low end, midrange, and top end that is clear and detailed. There is nothing else like this speaker out there.
Kudos to the design team at Tone Tubby, Wow, seriously, wow. Review by Tone Quest Magazine. If you are in the mood for a new speaker, we can enthusiastically recommend the Tone Tubby Purple Haze. Clear and endowed with a certain urgency, the Purple Haze does not sacrifice clarity for attitude, although it has plenty of both.
Low end is rich, mids are present in just the right proportions and the top end is sweet and alluring. The Purple Haze can growl when you want it to and purr too.
We would call it an all-purpose speaker voiced for rock and blues, although we can't imagine it sounding wrong for virtually style of music. We used it with the'62 Vibrolux with outstanding results - vibrant lows, solid mids and a treble tone that is rich in harmonic overtones. Rated at 40 Watts it has plenty of power and presence, and two are perfect in a 2x12 cabinet for higher volume applications.
We like this speaker a lot. It accurately reproduces whatever you play and adds just the right amount of British attitude without succumbing to a distorted tone.
If you enjoy really hearing your guitars from the lowest strings to the top with detail and finesse, the Tone Tubby Purple Haze does the trick. Hemp is the name of the fiber that is cultivated from plants of the Cannabis genus.
Hemp has been used for industrial purposes including paper, textiles, biodegradable plastics, construction, health food and fuel. Hemp fiber used for speaker cones provides a durable, tear resistant and water resistant cone. The long fiber of hemp provides better sound reproduction and longer sound waves. Paper Hempcone® speakers deliver an organic and natural sound. By using hemp fibers instead of paper, the hemp cone delivers a consistently sweeter sound that many professional musicians rely on to optimize their recording sessions and live performances. Paper cones will dry out, become brittle and give a brittle tone. Hemp provides a rich, full spectrum of tone from a cone that is stronger and more flexible. Alnico Alnico is an iron alloy which in addition to iron is composed primarily of aluminium (Al), nickel (Ni) and cobalt (Co), hence al-ni-co, with the addition of copper, and sometimes titanium. Alnico is inherently a warmer and smoother tone. Ceramic (ferrite) magnets are composed of strontium carbonate and iron oxide. Ceramic magnets tend to produce a brighter, edgier tone and work great in 4x12 sealed back cabinets. Alloy magnets like Alnico have an immediate and temporary demagnetizing reaction to the moving voice coil, lending a smooth compression effect to the signal that feels lively and responsive. Ceramic magnets demagnetize less readily and sound edgier and punchier. The item "Tone Tubby 12 Purple Haze Alnico Hemp Cone Guitar Speaker 8 ohm NEW with Warranty" is in sale since Saturday, November 29, 2014.
This item is in the category "Musical Instruments & Gear\Guitars & Basses\Guitar Amplifiers". The seller is "oldworldtechno" and is located in San Francisco, California. This item can be shipped worldwide.
Country of Manufacture: United States
Model: Purple Haze Alnico 12"
Country/Region of Manufacture: United States
Impedance (ohms): 8 Ohms
MPN: Does Not Apply
Brand: Tone Tubby