THE ORIGINAL AMMO CAN BOOMBOX Bluetooth Speaker 2019 THODIO. 50 CAL A-BOX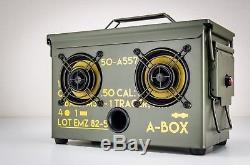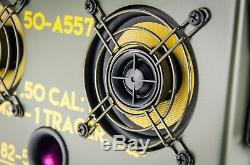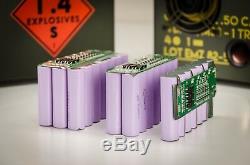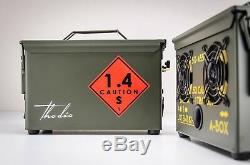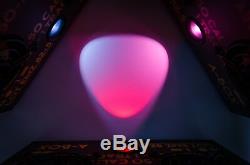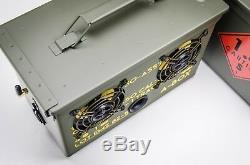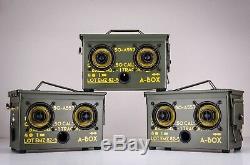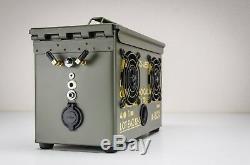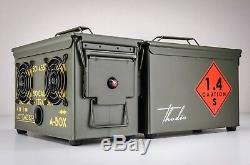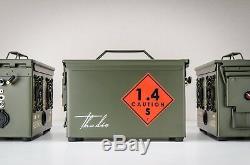 Since receiving my 50cal I haven't stopped listening to it, the sound is quality, bass levels and midtones are incredible, played it next to both my Bose sound bars and it blows them away. Awesome product, I will be ordering another. Militia chic with clear and punchy sound. I expected something good but the sound is just perfect, I've got 2 80Watts home audio speakers pluged on a amplifier, with an already very good quality but your box beat them on the punchy aspect, the gradings are just perfect, it slaps you in the face, and no vibrations, every detail is over-clean, you're a Dutch magician. I received my A-BOX about a week ago.
Can't wait to hit the beach with it this summer! Thanks again for the great product. From the US on the. I have no idea how so much sound can come out of such a small box!! And a metal one at that!!
Developed and perfected over 8 years with the help and feedback of thousands of satisfied customers, the. 50 CAL A-BOX is a wireless bluetooth speaker built into an original 50's design. The A-BOX is a compact power house which produces a punchy clear sound far exceeding your expectations for a portable speaker this size. It's ready to be taken to the "party"field and beyond. Next to its truly eye catching looks, the robust military spec design ensures it can handle bumps, drops, some rain and even some napalm that would melt any other plastic speakers on the market. You can use these wireless speakers anywhere at any time. Whether youre at home, in the park, at the beach or in case you need to intimidate the enemy in a warzone from a helicopter, yes, Apocalypse Now. We reinforced and insulated the ammo can with 3 different materials to get it to sound as great as its hand crafted solid wooden brother, the iBox XC does. The 200 watts RMS audiophile amplifier driving the custom filtered kevlar coned coaxial speakers with softdome tweeters are what makes this box boom. Louder and with more transparency than any portable bluetooth speaker or boombox you have ever experienced. Everybody in the neighborhood will know who is coming when you turn this baby up, whether youre inside the house or outside. You can wirelessly stream your beats from any Bluetooth device to the A-BOX in CD quality with the optional integrated HD LossLess aptX/AAC Bluetooth module. This is the best Bluetooth connection available on the market today. This is a great wireless connection recommended for easy outdoor use. The best WiFi Receiver with App. Turn your Thodio into the Ultimate Portable, Wireless Smart Speaker. Featuring the cleanest, most transparant and powerful wireless sound available. This is the best wireless connection available.
Highly recommended to get the most out of your XC. Experience music like the artists intended it, both Indoors and Outdoors. Stream all your online and offline music with a rock solid wireless connection.
Works with your computer/smartphone/online music service/NAS/UPNP Network in High Resolution quality. Play from one, two (Wireless Stereo) or multiple (Multi Room) Thodio iBox or A-BOX speakers. The safe and protected integrated rechargeable lithium ion battery pack will last for up to 26 hours (upgradeable to 52 or 78 hours) on a single charge. 26 hours 3400mAh 29.4volts Li-Ion pack with 7, 18650 LG cells. 52 hours 6800mAh 29.4volts Li-Ion pack with 14, 18650 LG cells.
78 hours 10200mAh 29.4volts Li-Ion pack with 21, 18650 LG cells. All battery packs can easily be replaced by the owner. The A-BOX comes with an automatic charger which can be used as a permanent power supply to have unlimited music while plugged into the net. The light in the bass reflex tube will tell you how long you will be able to party before you have to recharge.
Turn your A-BOX into a portable guitar amplifier with the optional guitar bus. Recharge your smartphone or tablet on the go with your A-BOX's battery power up to 2.1A.
Comes standard on all Thodio speakers to hook up any audio player with the included solid, high quality audio cable with gold plated mini jack connectors. 4 inch custom Thodio KSX4 high power long throw coaxial Kevlar speakers with 3/4 inch Softdome tweeters with audiophile filter components. Super efficient 200 Watts Class D amplifiers capable of processing High Resolution audio.
12.9 or 13.6 or 14.3 pounds / 5.9 or 6.2 or 6.5kilos depending on battery. Besides smartphones, mp3 players, laptops and other wired and wireless audio sources the A-BOX can be used as guitar amplifier too, a 1/4 guitar bus is optional. Integrated rechargeable battery lasting 26 hours per charge (upgradeable to 52 or 78 hours). Optional Dual USB charge port to charge all mobile devices. External volume control with power switch.
Battery indicator lights inside the bass reflex port the white light indicates a full battery, orange indicates 66% battery left, red indicates 33% battery left. Dimensions 11.8 x 6.1 x 7.7 inches / 30 x 15.5 x 19.5cm L x W x H.
Mini jack 3.5mm aux input. Including a fully automatic charger comes with US, UK, Australian or EU plug (powercord can easily be exchanged with any standard IEC320 C7 powercord) and works with all net voltages worldwide (110-240V AC) which can be used as a permanent power supply. Including a 3.5mm minijack plug aux cable. The item "THE ORIGINAL AMMO CAN BOOMBOX Bluetooth Speaker 2019 THODIO. 50 CAL A-BOX" is in sale since Friday, March 10, 2017.
This item is in the category "Consumer Electronics\Portable Audio & Headphones\Portable Stereos & Boomboxes". The seller is "thodio" and is located in Kudelstaart.
This item can be shipped worldwide.
Brand: Thodio
MPN: Does Not Apply
Model: 2019 THODIO .50 CAL A-BOX
Country/Region of Manufacture: Netherlands
Color: Olive Drab
Connectivity: Bluetooth
Features: Amplifier